MASS OF THE ANOINTING OF SICK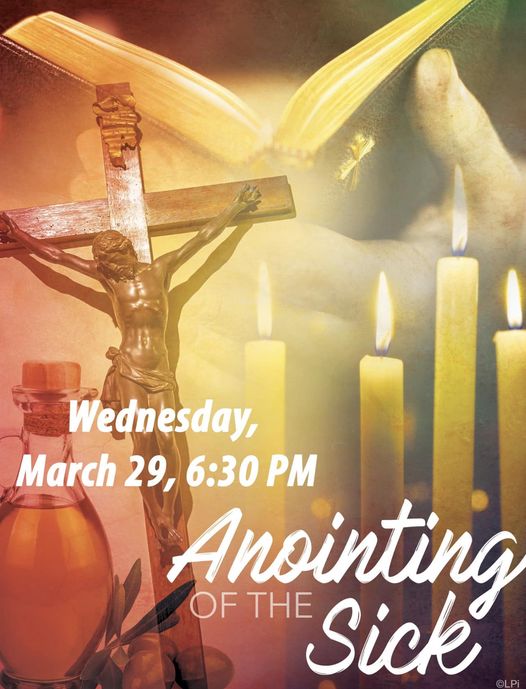 CONFESSION AND MASS OF THE ANOINTING OF SICK WEDNESDAY MARCH 29. At 6:00pm we will have Confessions. Please come and take this opportunity for your Easter confession. Following confessions we will have the Mass with Anointing of the Sic. Fr. Jerome Bleem, O.F.M. will be the main celebrant. Anointing of the Sic is for all those seriously ill and those experiencing declining health do to age. After Mass all are invited to the hall for some refreshments. I encourage all of you to please set aside this time for spiritual renewal.
ISPOVIJED I MISA/BOLESNIČKO POMAZANJE U SRIJEDA 29. OŽUJAK: Imat ćemo ispovijed u 6:00pm. Bit će više svećenika za ispovjed. Molimo vas uzmite ovu prliku za vašu Uskrsnu ispovijed. Iza ispovijedi imat ćemo sv. Misu sa prigodnim nagovorom. Fra. Jerome Bleem predvodit će Svetu Misu. Pod ovom sv. Misom bit će bolesničko pomazanje za sve koji su bolesni na duši i tijelu. Iza Sv. Mise svi ste lijepo pozvani u župnu dvoranu.

CONFESIONES Y MISA DE UNCIÓN DE LOS ENFERMOS, MIÉRCOLES 29 DE MARZO. Tendremos confesiones a las 6:00 de la tarde. Venga y aproveche esta oportunidad para su confesión de pascua. Después de las confesiones se celebrará la misa y Uncion de los Enfermos oficiando el Padre Jerome Bleem, OFM. La unción de los enfermos es un sacramento para todos los enfermos graves y aquellos que experimentan deterioro en su salud debido a la edad. Después de la misa, todos están cordialmente invitados al salón para tomar un refrigerio. Les invito a todos para que reserven este tiempo para su renovación espiritual.